Wavelength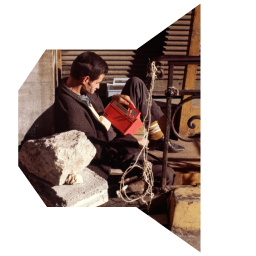 Wavelength is broadcast on Resonance 104.4fm, on Fridays at 2:30pm and repeats on Mondays at 5am.
7th Apr 2023
Bob Parks in Bookshop
Bob Parks enters Marcus Campbell Art Books and holds forth: "As far as a different language in Ukraine goes, think British i.e. Gaelic, Celtic and English languages have co-existed for centuries without threatening British-ness; also Holy Russia could equally be called Holy Ukraine, but for me it doesn't sound authentic (sort of phoney for some reason). But either way it denotes a unique part of the Earth that has a powerful spiritual identity which has fostered in Art most noticeably the birth of Abstraction… to me Spirituality transcends political and nationalistic identity".
31st Mar 2023
Sam Robinson with Hani aka Anacusis
Samuel Robinson takes up William's temporarily vacated seat and speaks with Brixton-based left-field hip-hop musician, Hani aka Anacusis. In amongst first airings of some new works in progress, Sam and Hani discuss the creative process, representing personal challenges sonically, and the viability of presenting oneself as a multi-dimensional person in one's art. For more of Hani's music search 'Anacusis' on all major streaming apps.
13th Jan 2023
Samuel Robinson's Chain Composition
This week: Samuel Robinson takes the reins and, accompanied by makeshift interviewer Daniel Wilson, presents an experiment in chain composition between eight participants (a concept previously spoken about on a Wavelength episode from October 2021 also featuring Sam). Ideas of editing and its value judgements are discussed and subverted in this collective work made exclusively for Wavelength. Features contributions from Dan, Laurie, Ki, Milo, Hani, Emily, and Ben. Produced by Sam.