Wavelength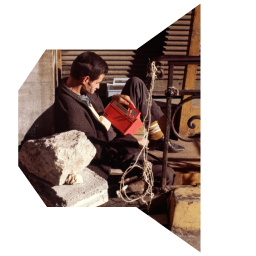 Wavelength is broadcast on Resonance 104.4fm, on Fridays at 2:30pm and repeats on Mondays at 5am.
13th Mar 2020
Potpourri
Prayer by Solomon G. Ilori: introduction to The African Beat by Art Blakey. Same by Julianna Barwick from Will (2016). Fountain by ASUNA and Jan Jelinek from Signals Bulletin (2018). Le Tombeau D'Edgar Poe by Ilhan Mimaroglu from Electronic Music (1966). Gurdjieff improvises on the harmonium, recorded in Paris in 1949. J'Arrive by Jacques Brel (vinyl LP donated by Daniel R. Wilson who found it in a bin). Three tracks chosen for the percussion element: Aretha Franklin sings Nobody Knows the Way I Feel This Morning from A Tribute to Dinah Washington featuring drumming by Gary Chester. Split Skins by Art Blakey from Orgy in Rhythm. Last section of Bass Chants and Cues from Gracility; Music of Laurie Scott Baker: Jamie Muir on drums, John Tilbury on organ and Baker on VCS3 synthesizer; recorded live in 1972 prior to Muir joining King Crimson.
6th Mar 2020
No Name Now Network
Occult Stalinist Bob Parks, figurehead of the secretive cult presently sweeping the London docklands area brings along two 'guests' to the studio: Stephen Micalef, poet and early contributor to the punk fanzine Sniffin' Glue, and Pablo Behrens, film director/producer of Adrift in Soho. Parks continues to exert his influence with extended mystical monologues. It would seem that Behrens plans to film Bob in Cambodia with reference to mass psychosis and Bob's dead mother playing the part of Kurtz (Heart of Darkness).
28th Feb 2020
Agitations from Oscillatorial Binnage
Daniel R. Wilson and Toby Clarkson, two members of the London electroacoustic improvisation quartet Oscillatorial Binnage will be discussing their new album 'Agitations: Post-Electronic Sounds' (on Sub Rosa records) which features force fields and soundmaking assemblies of recycled objects. The album takes as its premise an imagined environmental collapse, presenting alternative ways to make exploratory, abstract electronic music without electronic circuits.