Wavelength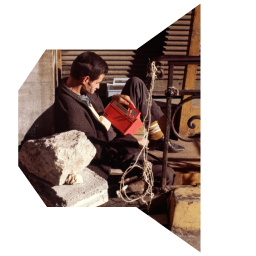 Wavelength is broadcast on Resonance 104.4fm, on Fridays at 2:30pm and repeats on Mondays at 5am.
4th Nov 2022
Lack at SE8
William English is joined by artist Jamie George and Nicolas de Oliveira, (co-curator with Nicola Oxley at SE8 gallery London).
Jamie's current exhibition at SE8 titled; Lack runs from 28th October to 3rd December. "Over the past decade his practice has explored enactments of loss and breakage, be this in the making processes of the work or the personal and cultural narratives explored in the work".
Hi William,
David Price got in touch as he finally managed to listen to your resonance programme; I wanted to share an excerpt with you.
best, Nico
It was extremely nice to hear your voices, to begin with. The familiar voices of you and William, of course, but also to hear Jamie's careful reflections on his work. And I'd forgotten what a good interviewer William is. In a subtle way he and his program do something rather special – I can't think of another discursive space (text, audio, video, anything) where artists or people like artists are invited on, but also questioned as if nothing can be taken for granted or assumed. William calmly asks what is meant by certain key terms that are usually taken for granted in the art world, and always ends up guiding the guest to some kind of revelation. I was delighted by your Lyotard scrunched-up-paper reference (text coming into contact with each other unexpectedly, or non-serially), and your mention of me was very kind. That idea of the 'fallow field' in terms of the gallery space – it felt very meaningful to have it reiterated in a conversation that began with you declaring the logic of SE8 shows having become something like de facto residencies. 
7th Oct 2022
Bob Parks returns
Bob Parks makes a welcome return to Wavelength with a new song, some poetry, controversial views on occult Stalinism, unconditional love resulting in a rendezvous in Barcelona with his ex partner who needs Bob to drive a car. Bob drove the car that went off the road resulting in the death of his mother. Bob lives in Sway.
30th Sep 2022
Artists' Records and Records by Artists
Artists' records and records by artists and others, including Poesie di Veruda (1967); Saddleworth Hotel (Blackhaine, Thomas Heyes); Maurizio Ravalico; Nobody's Husband, Nobody's Dad; Jacob Dwyer, The Devil Museum; Pablo's Eye, A Mountain is an Idea and others…